Tax School Links
Welcome to our Education Resources, where you will find a listing of other educational websites and other educational resources.
Tax School Homepage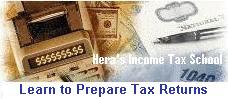 Companies that link to Hera's Income Tax School:
---
*Seasonal Job Resource - A directory for seasonal job seekers.
Mailbox Rental Services - Automate your paper snail-mail to online mailbox rental, scanning and mail forwarding with a virtual mailbox rental account.
Medical Training Schools Directory of schools that offer medical training programs for those looking to enter a healthcare career.
Photography Colleges Directory of photography schools and art schools.
Public & Private School Uniforms Uniforms Online offers parents the opportunity to purchase school uniforms for their child's school with the convenience of delivery to your house.
Learn to Speak Spanish: Cassettes, CDs, MP3s Learn how to speak Spanish fluently with an effective home study course. Available on cassettes, CDs or in MP3 format.
The Creativity Institute - Educational Toys to Help Make Children More Creative Toy pianos, puppet theaters and puppets, big foam blocks, children's easels, doll houses, creative and educational toys for home or classroom. Child development articles to boost creativity in infants, toddlers, preschoolers and school age children.
In-Class Training - Tax Professional Certification
In-class instruction starts May 20,2013. Click here for tax school schedule.
Sacramento, Idaho, Wyoming, Minnesota, Indiana, Iowa, Utah, Louisiana, West Virginia, New Mexico, Montana, Kentucky, Oklahoma, Wisconsin, Missouri, Nebraska, Virginia, Austin, El Paso, Fort Worth, Tucson, Tulsa, Colorado Springs, Tennessee, Jacksonville, Encinitas, California, Bend, Eugene, Medford, Salinas, Salem, Arkansas, Kansas, Mesa, Reno, South Dakota, New Hampshire, Connecticut, Vermont, Delaware, Maine, South Carolina, North Dakota, Rhode Island, Mississippi, TJ, Mexicali, Santa Maria, Santa Barbara, San Antonio, San Francisco, San Diego, Alabama. Boston, Massachusetts, Atlanta, Puerto Rico, Highlands-Ranch, Bakersfield, Fresno, Oxnard, Palm Springs, Rancho Cucamonga, Redding, Santa Ana, Glassell Park, Montebello, Glendale, Bell Gardens, Huntington Park, Aurora, Detroit, Orlando, Miami, Long Beach, Houston, Dallas, Palm-Springs, valley Cottage, Anaheim, Riverside, Stockton, Chula Vista, Fremont, Irvine, Moreno Valley, San Bernardino, Modesto, Fontana, Toronto, Montreal, Vancouver, Calgary, 2014, student-welcome, Hobbs, Henderson, La Jolla, 12-California-tax-topics, qb-ca, survey, santa monica, Annual Federal Tax Refresher (AFTR) Course, Annual filing season program
temp broken link page
honor-roll-tax-preparer-california, honor-roll-tax-preparer-oregon,
2012 Continuing Tax Professional Education
Online - 2012 Tax Professional Certification
In-Class Training - Tax Professional Certification
Evaluate 2012 continuing payment

Copyright © 2014 [Hera's Income Tax School]. All rights reserved.
Revised: 07/10/17