Required Tax Preparer Hours for New York
There are no additional topics required for New York. If you need continuing education please go to Continuing Education Tax courses instead.
Tax School Homepage
We are your best choice for a tax school in New York. Did you know that New York is the 27th-most extensive, the 3rd-most populous, and the 7th-most densely populated of the 50 United States? New York is bordered by New Jersey and Pennsylvania to the south, and by Connecticut,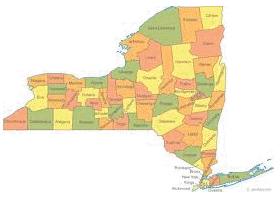 Massachusetts and Vermont to the east. New York has a maritime border with Rhode Island east of Long Island, as well as an international border with the Canadian provinces of Ontario to the west and north, and Quebec to the north. The state of New York is often referred to as New York State to distinguish it from New York City. It is believed by many that New York City runs New York State.
New York is probably one of the best locations for your tax office. New York is the epicenter of the nation's culinary, arts, designs, fashion and business industries. Tax professionals will find endless job opportunities in New York City, which is home to the world's leading fashion designers, chefs, artists, cosmetologists and hair stylists. Likewise, the thriving international business sector in New York makes it a desirable location for a tax preparation business.
Rochester, traditional a manufacturing center, has also experienced a boom in technological industries. Xerox has its manufacturing facilities in Rochester, and companies like Eastman Kodak and Bausch and Lomb are also located in that part of New York. New York offers vast opportunities for accounting and tax preparation businesses to thrive.
New York City and Western New York may offer tax preparer school student graduates an exciting setting to start their own tax business. New York has many trade schools and tax schools but none offer the kind of training we offer at our income tax school.
New York is a state bursting with opportunities. From the hustle and bustle of Wall Street to the relaxed atmosphere in the Hamptons, there is no better place than New York to begin a tax practice. Take a look at our tax preparer school to help you accomplish your dreams. New York is the place to be for almost everything, social life, vacation, career opportunities, and school.

Want to find a New York tax school near you? The school does not get any closer than your computer. Why travel far away to train for a new career if you can do train to be a tax preparer right from your laptop. Our online tax preparer school offers career oriented preparation in this high-growth and demanding area of expertise. Jumpstart your tax preparer career today!
Copyright © 2012 [Hera's Income Tax School in New York]. All rights reserved.
Revised: 01/20/13